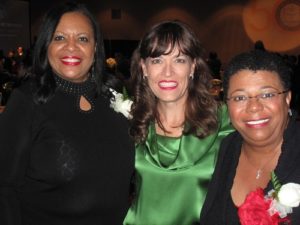 OUR STORY
Diann Payne (left), Paige Roberts (middle), Karen Sock (right)
Pathways2Possibilities: P2P began as a hands-on, interactive career expo for all 8th graders and opportunity youth, ages 16-24, in South Mississippi every November at the Coast Convention Center in Biloxi, Mississippi. The story of this unique event unfolds here to inspire you to join our effort or enlist our help in developing your own P2P experience for your community.
THE NEIGHBORS
When members of the Jackson County Chamber of Commerce Education Issue Manager Group heard about an exciting career expo for 8th graders called Worlds of Opportunity (WOO) next door in Mobile, Alabama, they decided to check it out.  The Southwest Alabama Workforce Development Council (SAWDC) hosts the annual event and welcomed the curious Mississippi visitors that September 2011.
TURNING AN IDEA INTO REALITY
SAWDC advised the Jackson County education committee that the best approach to creating its own version of WOO would be including employers and educators from the entire Mississippi Gulf Coast.  Someone, though, would have to "own" the project to make sure it crossed the line from idea to reality.  Committee member and Jackson County Civic Action Committee Executive Director Diann Payne stepped up to that line.  She used some funding from America's Promise Alliance, given to her after Hurricane Katrina, to contract with Paige Roberts and Karen Sock to coordinate the two-day career expo that would soon become Pathways2Possibilities: P2P. Paige and Karen developed an expanded version of the expo they visited and project managed all components of the two-day career expo.
EVERY NOVEMBER
P2P debuted on November 13-14, 2013, covering the 133,000 square foot convention floor with 19 Pathways offering activities for 6,000 8th graders, followed by few dozen opportunity youth, ages 16-24.  P2P has shown how powerful an effort can be when the public, private and nonprofit sectors join forces in the name of education, workforce development and economic development.
GROWTH ACROSS MISSISSIPPI
Karen and Paige believed the success of P2P on the Gulf Coast could be replicated in other communities.  The Mississippi Department of Education referred the CREATE Foundation in Tupelo to the P2P ladies when the foundation decided it wanted to host a career expo for students in seven Northeast Mississippi counties.  As a result, Imagine the Possibilities debuted at the Bancorp South Arena in Tupelo on October 6-7, 2015 for 3,300 8th graders and a hundred opportunity youth, ages 16-24.  With the help of community leaders, Karen and Paige hosted P2P Delta on April 6-7, 2016 for 2,200 8th graders from 12 Northwest Mississippi counties. In 2018 launched P2P NW Mississippi in partnership with the Desoto County Economic Council, serving 4 counties, and P2P Central Mississippi debuted in November 2019 in partnership with the United Way of the Capital area, serving 5 counties
State Senator Brice Wiggins, from Pascagoula, forged the way for a 2015 appropriation to help cover the costs for the Coast's 3rd annual event, the inaugural event in Northeast Mississippi, and the inaugural event in the Delta.  Lt. Governor Tate Reeves, Education Committee Chair Sen. Gray Tollison, and Appropriations Chair Sen. Buck Clarke strongly supported the bill.  The 2017 Legislature approved the appropriation for the third year in a row.
OUTCOMES AND IMPACT
In 2015, researchers from the Dr. Maxine Harper Center for Educational Research and Evaluation at the University of Mississippi began a study of short- and long-term outcomes and the impact of P2P on students, families, educators, employers and communities. Click here for the study.
Sign up today to volunteer at P2P November 15-16 at the Mississippi Coast Convention Center in Biloxi.